Research projects
Debt Clearing Mechanisms – An Experimental Investigation
Investigators: Lars Börner, John Hatfield (University of Austin Texas) and Erik Kimbrough (Chapman University California)
Funder: Diligentia Stiftung , year: 2020.
The project is affiliated with the Halle Institute of Economic Research IWH and received an additional IWH Speed Project Grant.
The intergenerational Persistence of Socio-Economic Status. Social Inequality between the 17th and 20th Centuries
Investigator: Jan Michael Goldberg (PhD thesis), Supervisors: Lars Börner and Georg Fertig
Funder: Hans-Böckler-Stiftung , years: since 2020.
Jan Michael Goldberg receives Hermann-Knothe-Preis
Jan Michael Goldberg's research on families in Northern Bohemia and Southern Upper Lusatia won the Hermann-Knothe-Preis in honor of the historian Hermann Knothe.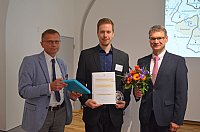 Jan Michael Goldberg receives Hermann-Knothe-Preis (Foto: Wenzel)
Newspaper article (Zeitungsartikel) Sächsische Zeitung 2. Mai 2022
Zeitungsartikel_SZ_Zittau_k.jpg (623,5 KB) vom 05.05.2022
---
---